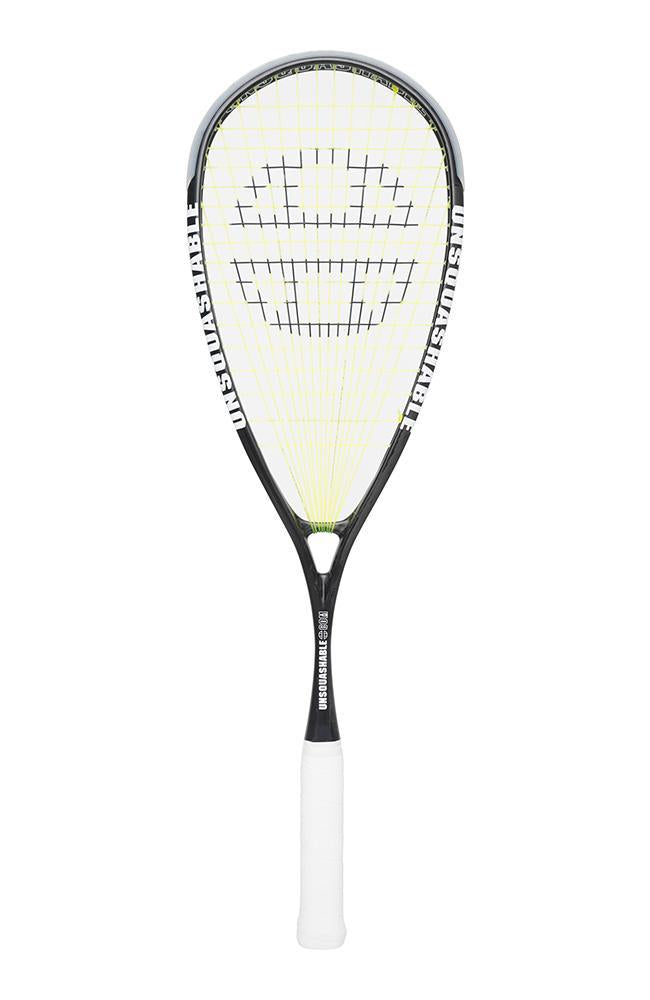 UNSQUASHABLE Syn-Tec Pro Squash Racket
Save

23

%
Original price
1.299,00 kr
Fri fragt
Fri fragt + 499kr
KONTAKT OS
Kontakt os her
KOM PÅ BESØG
Personlig service
STØRSTE UDVALG
Stort udvalg
The UNSQUASHABLE SYN-TEC PRO squash racket comes with a revolutionary AntiTorsion™ construction, which was designed and developed in collaboration with America's number 1 Todd Harrity.
We believe that the development of racquets to the highest level produces a better product for the general player and the SYN-TEC Pro is an excellent example of this. The SYN-TEC PRO has been developed to provide the best possible feel and feedback, which is demanded by the ambitious players who want to win on precision across the court and balanced power.
The racquet has been created through a unique and well-thought-out manufacture with input from professional players, including Todd Harrity, which has resulted in a completely unique frame construction that takes the longitudinal strings around the underside of the frame to provide extra string bending and thus extra feedback and feeling through a rigid and powerful structure.
500 sqcm head size & 16 x 17 string pattern
125 grams DynamicWeight™ & head light balance
Powered by Stiff PrecisionFlex™ CarbonWeave™
TOUR-TEC PRO 1.20 DuraFibre™ string
TOUR-TEC PRO Performance PU grip
Cover not included
The racquet further features an aerodynamic PowerProfile™ frame geometry and head-light balance to provide increased maneuverability and PrecisionFlex™ CarbonWeave™ construction to provide a strong and stiff frame while reducing vibration for more feel.
The racquet also features a unique concave shape around the clubface that maximizes the size of the sweetspot, which is further complimented by the 16 x 17 fan string pattern.
All UNSQUASHABLE performance squash rackets come standard with UNSQUASHABLE TOUR-TEC PRO 1.18 DuraFibre™ string & UNSQUASHABLE TOUR-TEC PRO Performance PU Grip.
UNSQUASHABLE
INSPIRED BY JAHANGIR KHAN
MADE TO WIN
| | |
| --- | --- |
| Balance | Hovedlet |
| Grip | Tour-Tec Pro Performance PU |
| Hovedform | Dråbe |
| Hovedstørrelse | 500 |
| Opstrengning | Tour-Tec Pro 1.20 DuraFibre |
| Strengemønster | 16 x 17 |
| Vægt | 125 |